Entry Procedures
This year, all entries for TAPPS Photo Contests will be submitted through Varsity Hype. This is different from previous years, which used the ATPI Contest Website. You may be familiar with Varsity Hype from last year's Spring Fine Art Competitions. We felt it would be easier to have all of our contests under one roof.
This page will take you though the steps needed to submit to this contest, create an account or log into the Varsity Hype contest website, create student accounts and add them to the contest, format your images correctly and add metadata, upload your entries, send payment. Payment does not need to be received before the deadine.   
Image Format and Metadata Instructions 
All images submitted to the ATPI Fall Contest must include metadata. Metadata simply means "data about other data." Your images already contain metadata created by your camera on information such as the time the photograph was made, the settings used, and so on. You will be adding metadata about the student submitting the image, school information, category information, division, and instructor information. Including metadata in published photos is not only good practice for photographers but critical to the judging process for this contest. Images without proper metadata will be disqualified. You will need to use third party software to add metadata to your images. Note: We no longer require you to resize your image. You only need to add metadata and use our naming conventions.
If you are familiar with metadata: We utilize the ITPC standard fields for "Title," "Artist / Author," and "Description". See below for description formatting and file naming conventions.
For a video walkthrough using Adobe Photoshop, click here. 
For a video walkthrough of Photopea, a web-based free alternative to Photoshop, click here.  
The following instructions are written for photoshop but also apply to any photo editing software that will allow image resizing and metadata editing (such as Bridge, Lightroom, Capture One, etc.). Don't have any of those programs? photopea.com is a free alternative, and even works on Chromebooks.  (for specific instructions with screenshots, click here.) For a further list of alternatives to Photoshop, click here.
1. Open the image in Photoshop.
2. Under the File menu, select "File info."
3. In the Author / Creator field, enter:
Your name.
4. In the description field enter:
Division (6A, 5A, etc.)
Category
Your Name
School Name
School City, State
Teacher Name, instructor
5. In the Document Title / Title field, enter
Title
6. Open "Image Size" under the Image menu.
7.  Go to the File menu and select "Save As."
8. Save the image as a JPEG file.
The file name must not contain any periods or characters such as #, or /. Name the file as follows:
Lastname_d_category_imagenumber.jpg
(student last name, TAPPS division, category name and image number)
For example, an entry in the 6A Sports category taken by Alice Smith should have the following filename: smith_6A_sports_1.jpg
Image quality should be at maximum (12).
Uploading / Submitting Images 
Once your images are ready for submission (metadata included), you can submit them to the contest via Varsity Hype. Log into your account or create an account at Varsity Hype. Click on the contest link below that corresponds with your school's TAPPS Division. If you do not know your Division, check with your school administration, Fine Arts Director, or Athletic Director. Note: These links will be active once the contest sites are open. Check back later if you are reading this early.
1. Click on the contest link for your division, then sign in if prompted. 
If you do not have an account with Varsity Hype you will need to create one.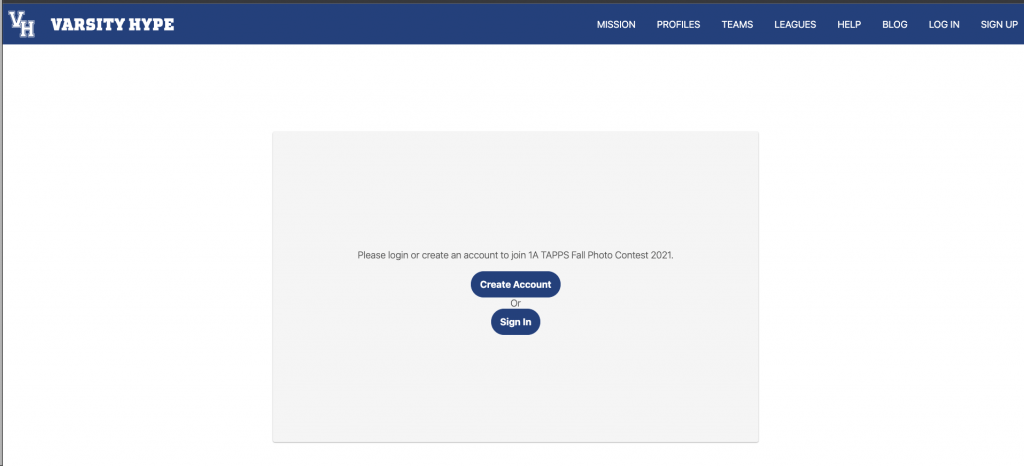 2. Click on the category you wish to enter. 
2. Click on the "create submission" button. 

3.Fill in the entry form, then click "next." Indicate "yes" to confirm that you have added metadata to your image before submitting. For school name, make sure you use the school name as displayed in Rank One. Ask your teacher if you need to check. Some of our schools share names but are in different parts of the State. It should be: School Name- City.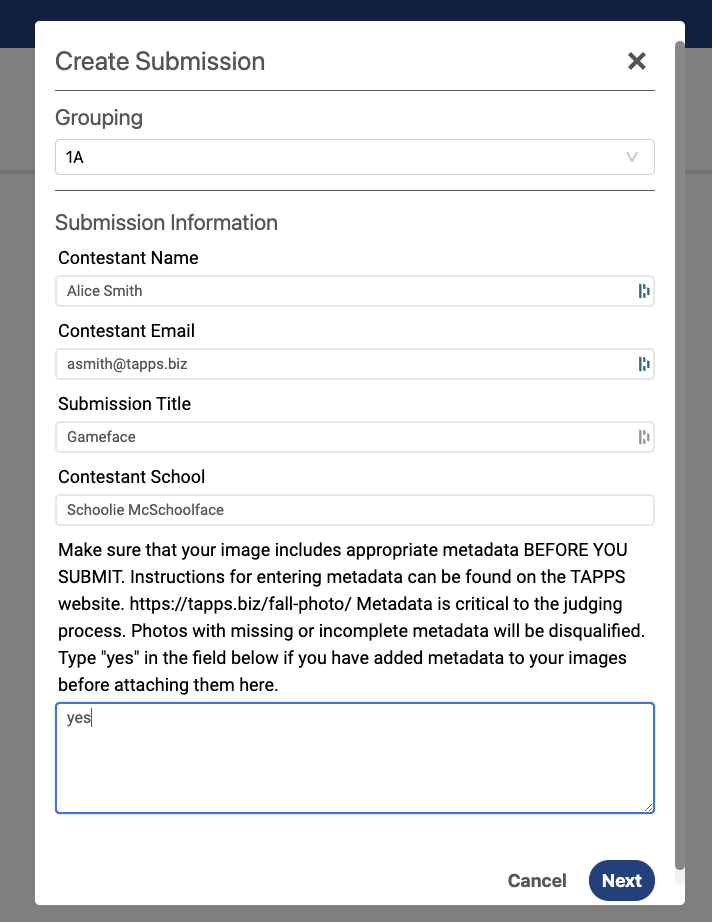 4. Upload all of your submissions for this category. Make sure that they are named correctly! (See above) Then click "next."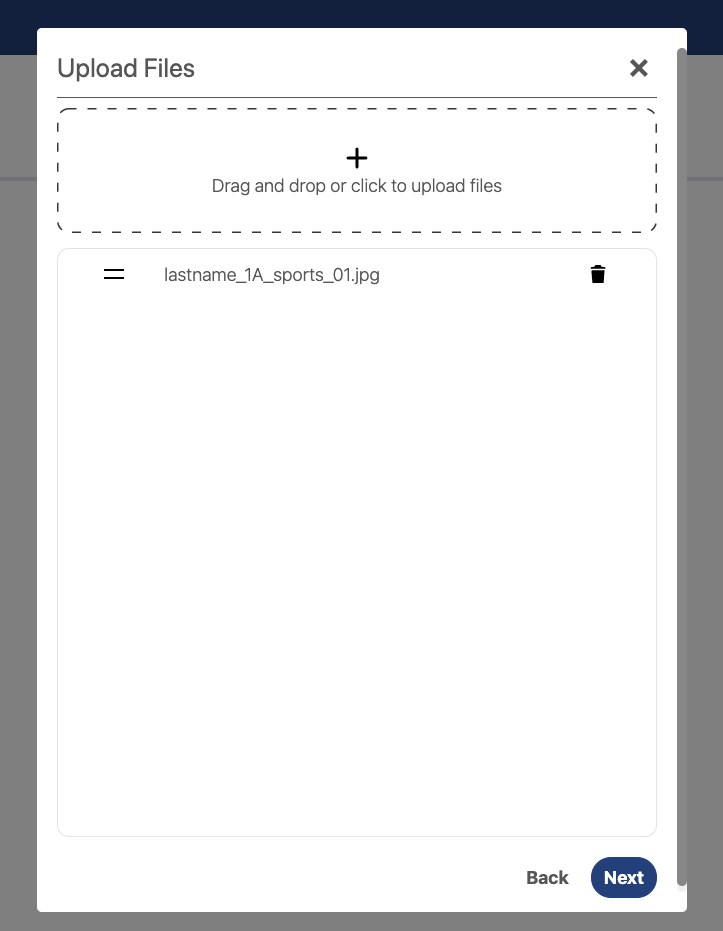 5. You can review your submission for this category. Repeat this process for all of your entries in other categories. 

7. If you are submitting to the faculty category, there are no categories. Enter as many images as you like. The same rules about metadata and file names apply to faculty entries.
Contest Fee and Payment
The contest fee is $3 per image submitted. Faculty entries are $1 each.  After the contest deadline has passed, you will receive an invoice for the entries associated with your school. If you have any questions please contact us at [email protected].