Students will complete Ready Writing on the TAPPS Course Dashboard. They will need to register prior to the test date in order to respond to a registration email.  Instructions on creating a TAPPS Course Dashboard Account can be found by clicking the Academic and Speech Entry Instructions button on the Academics page.
Ready Writing Tests will take place on the following dates:
1A / 2A    Feb 22 – Tuesday​
4A / 5A    Feb 23 – Wednesday
6A           Feb 24 – Thursday
3A           Feb 25 – Friday
ON THE DAY OF TESTING
TESTING MAY BEGIN ANYTIME FROM 8 am until 4 pm.
ALL STUDENTS FROM THE SAME SCHOOL MUST START THE TEST AT THE SAME TIME, NO LATER THAN 4 pm.
TEST ARE TIMED (90 min) FROM THE TIME THE STUDENTS PRESS THE START QUIZ BUTTON.
STUDENT INSTRUCTIONS 
You have 90 minutes to compose an original, well‐developed expository essay. Expository writing explains, proves, or explores a topic in a balanced way, allowing the argument and the evidence given to be the deciding factor in the paper. Descriptive or narrative passages may be used to illustrate or reinforce an idea or point that is being explained, but must be clearly subordinate or incidental to the exposition. All writing should pertain and develop the prompt. A title is required, and essays submitted without a title will be disqualified.
REVIEW ALL STEPS PRIOR TO COMPLETING THEM SO THAT YOU ARE AWARE OF EXPECTATIONS
To Take the Ready Writing Test: 
Go to teams.tapps.biz and login

Click Courses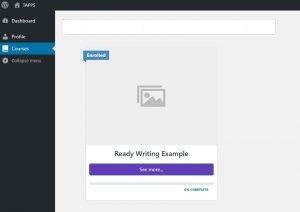 Click

See More

for Your classification Ready Writing- 2021 Test (example shown above)

Once you select Ready Writing- 2021, the test instructions will appear and the student will be able to start the test.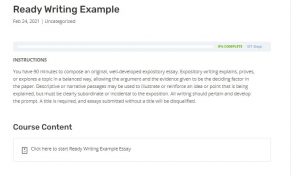 Click the "Click here to start Ready Writing 2021 Essay"

Click Start Quiz and see the 2 topic options. The timer will begin.

Read the topics and choose one topic to write about.

In the Response Box, enter the following information:

Name
School Name
Topic 1 (or Topic 2- just one)
Title
Essay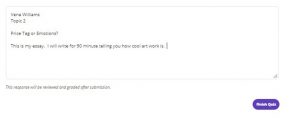 *If you lose connection, you can log back in.  The timer will continue even when logged out. Please be sure to have a steady internet connection. 
*If the student does not click FINISH QUIZ by 1hr:30min limit, the system will automatically submit and finish the quiz.  There is no overtime allowance.